The Best Tool for the Job
Source: John Glenn entering Friendship 7, Nasa photographer unknown. Wikimedia commons
Pretend for a minute that you are going to grow up to be a famous astronaut. One of these days, you will be asked to write about your life so that sixth graders like you can read about your adventures. You will have to spend some time thinking how you will write about your life and what you will say.
The decisions you make about your writing will be based on who your readers are and what you want them to gain from reading. You might want them to read about all the important events in your entire life up to the point of your writing, so you would write about your childhood, your education, your training to be an astronaut, and your space missions. This is an autobiography, a story you tell about your life.
On the other hand, you might want to write a memoir about smaller chunks of your life, perhaps your training to become an astronaut and your space missions. You might want to reflect about how your personality suited you to become an astronaut so students could read and learn about what it takes to be a crew member on a spacecraft. Finally, maybe you want to write a personal narrative about a specific event in your life like the first time you saw Earth from space and how that sight made you feel.
Source: Delta IV rocket lifting off, NASA Photo Library. Wikimedia Commons

In this lesson, you will learn how to identify the literary language and devices in memoirs and personal narratives and learn how these two types of writing compare to an autobiography so that you will be prepared to "blast off" and write about the important events in your life.
Literary Nonfiction?
Source: An issue of "The West Pointer", DOD. Wikimedia Commons.
Let's keep pretending. You are going to achieve fame by living on the space station for a very long time. Your university newspaper, among others, is going to write a story about you and your achievements. Newspapers, because of space limitations, have to stick to the facts. There is little effort made to capture images and emotions through the words journalists use. What's important is getting the information to the public in the most efficient manner.
The newspaper story is nonfiction because it's true; it's about a part of your life. In this lesson, you're going to learn about a different kind of nonfiction writing called literary nonfiction. Wait. Literary nonfiction? You might say, "Literary. Doesn't that mean it's like a story that has things like plot, setting, conflict, and characters?" If that's true, then where does nonfiction come in?
It turns out that literary nonfiction is a sort of blend of fiction and nonfiction. Imagine taking the newspaper article about living on the space station but turning it into a short story that's true. Though it's not fiction, it can contain elements like plot, setting, characters, and conflict. All the events are real, but you, the writer, add elements of fiction to make it more interesting and accessible to your readers.
Pieces of literary nonfiction can be written about true, factually accurate subjects; they're just written to read more like fiction. Authors accomplish this by sprinkling into their stories some literary language and devices that are commonly found in works of fiction, e.g., figures of speech such as simile and metaphor and literary devices such as imagery. In the sections to follow, you will see how these literary characteristics help determine how readers relate to what is written.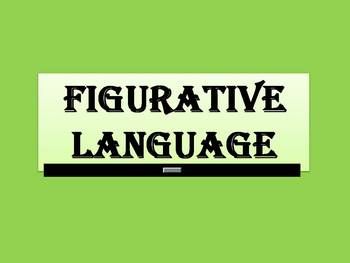 Source: Figurative Language Poster, teacherspayteachers blogspot. Pinterest

We will be concentrating on autobiographies, memoirs, and personal narratives and looking specifically at how an author's use of literary language and devices in these types of literary nonfiction contributes to their very nature and purpose.
Autobiographies
An autobiography is a book written by a person who is telling about his or her entire life.
Source: Amazon Book Cover
Characteristics of an autobiography
Written from first-person point of view

Often written in chronological order

Generally written about the author's entire life, so it's a book-length work

Includes events and people important to the author's life

May include research to make sure that all of the events being recorded happened as the author remembers them
If you look at the photograph of the book above, you'll see that it's an autobiography written by Frank Borman, an astronaut who was part of the first mission to fly around the moon. He also set an endurance record on Gemini 7. Because it's an autobiography, it probably contains events that cover most of his life. He might have used documents about those events to help him remember exactly how things happened.
Source: Amazon Book Cover
If you look at the photograph on the left, you'll see another book cover. This is the story of Apollo 13 written by Jeffrey Kluger and Jim Lovell, the captain of Apollo 13, a spacecraft bound for the moon that experienced serious mechanical difficulties which endangered the lives of the crew. Because of their courage and quick thinking, they repaired the ship and made it safely back to Earth. 
This book is a memoir because it is the story of only one part of Lovell's life. The scope, or extent, of a person's life story and the focus, therefore, are the two defining characteristics that separate autobiography from memoir and personal narrative. Autobiographies are longer and broader because they take into account a person's entire life. Because there are many events to relay in autobiographies, the focus is not as narrow as in memoirs or personal narratives.
Now, read an excerpt from an autobiography written by Col. Chris Hadfield, another NASA astronaut.
Source: Amazon Book Cover
I started when I was 9 years old and my family was spending the summer at our cottage on Stag Island in Ontario. My dad, an airline pilot, was mostly away, flying, but my mom was there, reading in the cool shade of a tall oak whenever she wasn't chasing after the five of us. My older brother, Dave, and I were in constant motion, water-skiing in the mornings, dodging chores and sneaking off to canoe and swim in the afternoons.
You might notice that he's setting the stage for the story of his life by writing in first person and introducing himself, his brother, and his mom. The next excerpt takes place after he decides, at age nine, that he wants to become an astronaut.
I'd always enjoyed school, but when fall came, I threw myself into it with a new sense of purpose. I was in an enrichment program that year and the next where we were taught to think more critically and analytically, to question and not just simply to try and get the right answer.
Finally, read one more short excerpt.
At 15 I got my glider license, and at 16, I started learning to fly powered planes. I loved the sensation, the speed, the challenge of trying to execute maneuvers with some degree of elegance.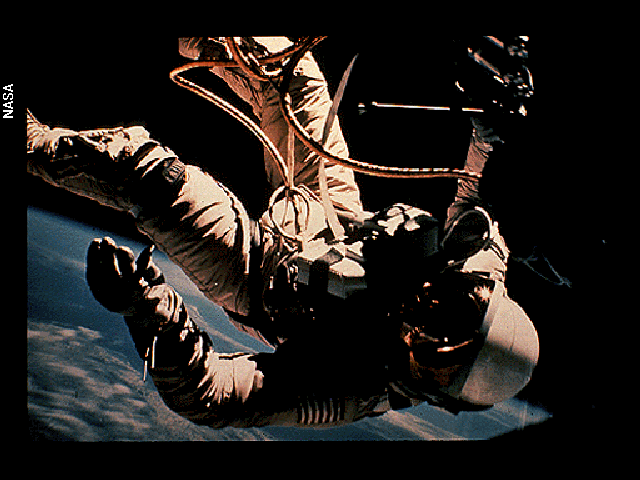 Source: Ed White during a space walk. NASA. Wikimedia commons
Just looking at these three excerpts doesn't prove that we have an autobiography here, but because the book begins early in Hadfield's life and continues in chronological order with all of the important events in his life described for the reader, it certainly looks like it might be an autobiography.
The difference in autobiography and memoir and personal narrative seems to be mostly a matter of scope. We know that Col. Hadfield wrote about his entire life from childhood to preparation to be an astronaut and finally through his career as an astronaut. Jim Lovell, on the other hand, focuses on telling the story of one momentous space flight, Apollo 13. Chris Hadfield, however, tells the story of his entire life. Again, the story and events that you want to tell will determine whether you write your astronaut story as your entire life, a portion of your life, or one event in your exciting life.
To finish the lesson, take the short quiz in the next section to review what you've learned.
Memoirs and Personal Narratives
If authors want to write about certain important times in their lives, they write memoirs, which are books of memories written in first-person in story form. Watch a short video about memoirs.
Source
What's a Memoir by Shmoop, Shmoop, YouTube
Source: Top Shelf, Andy Ihnatko, Flickr
Memoirs are about real people, but they're different from other works of nonfiction in that they feel and sound more like works of fiction than nonfiction. They usually have a plot, characters, and a setting, while also using literary devices such as figurative language, imagery, simile, and metaphor.
In a memoir, you are apt to read vivid descriptions and detailed character sketches that make you feel like you are part of the author's story. Authors of memoirs may include more long-term reflection. That is, authors may describe how they think and feel about what happened to them.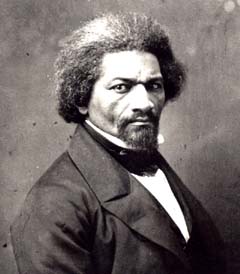 Source: Portrait of Frederick Douglass, Collection of the New-York Historical Society, PBS

For this reason, memoirs are excellent to read to discover how people and places in authors' childhoods influenced the adults they eventually became. Memoirs may be any length; some of them are book length, while others are shorter because the authors covered fewer parts of their lives.
Read these excerpts from the memoir Narrative of the Life of Frederick Douglass, An American Slave by Frederick Douglass.
Click on the words in the interactive below the excerpt to see think-alouds that might help you understand the elements that make up a memoir.
Mr. Gore was a grave man, and, though a young man, he indulged in no jokes, said no funny words, seldom smiled. His words were in perfect keeping with his looks, and his looks were in perfect keeping with his words. He was, in a word, a man of the most inflexible firmness and stone-like coolness.
I used also to carry bread with me, enough of which was always in the house, and to which I was always welcome; for I was much better off in this regard than many of the poor white children in our neighborhood. This bread I used to bestow upon the hungry little urchins, who, in return, would give me that more valuable bread of knowledge.
Frederick Douglass uses facts in the excerpts about his boyhood as a slave in Mr. Gore's household, such as the information that he always carried bread with him and gave it to hungry children. However, it's the imagery he uses in his description of Mr. Gore's "stone-like coolness" that helps readers get a mental picture of Mr. Gore so that they can more fully understand what it was like for Frederick Douglass to live that part of his life as a slave.
Source: Swimming Competition, Arne List., Wikimedia commons
Personal narrative is similar to memoir in that it is also written in first-person and uses literary language and literary devices. Where it differs from memoir is in the span of time it covers and perhaps the amount of detail the author uses to make his or her point. Because of that, personal narratives are usually shorter than memoirs.
Most personal narratives have a more narrow focus than memoirs. A memoir is apt to describe several stages of an author's life, while a personal narrative describes one single experience. Memoirs also include more long-range reflection on the part of the author than personal narratives do. The author spends more time thinking and writing about how memories have affected his or her life in a memoir. Personal narratives still rely on things like character, setting, and figurative language to paint a vivid picture in your mind, but they're shorter and include a little less reflection.
Here is an example of a personal narrative written by a student. Click on each word in the interactive below the excerpt to see the think-aloud.
It was only about five seconds before my head would touch the cool water, but five seconds felt long. The swimmers bent down and held the edge of the diving blocks. I guess I looked so ready and professional-like on the diving block, but inside, my stomach was on the world's biggest rollercoaster, and my heart was the one who wanted to jump out into the pool. The water smiled gleefully at me. Come on, come on, it seemed to say.
Here's one more example. This is an excerpt taken from a longer personal narrative that tells the story of one memorable incident from a young boy's life. After you finish reading the excerpt, look below at a list of common elements found in personal narratives and decide whether or not each element is contained in this excerpt. After you decide, click on each element to check your answers.
Source: Clova snow Snow on the road near the Clova Hotel, Colin Kinnear. Wikimedia Commons
By the time the last sandwich disappeared from our packs, we realized it was beginning to get late. We needed to find the railroad tracks soon. So putting the cow incident aside as best we could, we began the journey homeward.
As we trudged through knee-deep drifts of newly fallen snow, we came upon a path so tangled with briars we could hardly tell it was a path. It ran from the field through which we were walking to a nearby patch of woods. We had no idea where we were. Taking this path, we realized, could either get us home or get us hopelessly lost. It was getting colder by the minute, so we decided to take a chance . . . we took the path.
At first the path seemed easy and well-marked, but the farther we hiked, the denser the forest became until suddenly the lights went out like someone had flipped a switch, the path ended, and we were lost! From our Boy Scout training, we remembered that the best thing to do when you were lost was to remain calm and think things out. So we screamed wildly . . . then we stopped . . . and screamed wildly again! Looking back on it, I think maybe we shouldn't have gone so far in the first place. Things were turning downright dangerous. Little did I know just how dangerous.
Now that you understand the difference between a memoir and a personal narrative, let's see how they compare to an autobiography.
Your Turn
Using the information you learned in this lesson, click on the correct answer for each of the following questions.
Now that you're an expert in detecting the differences in autobiography, memoir, and personal narrative, you are all set to read the important stories of famous people, as well as write your own fascinating story about your life.
test
No Subcontent exists.
test
No Subcontent exists.