S1. Evaluate the level of implementation of the Texas State Literacy Plan (TSLP).
The TSLP is a tool for school improvement. The Action Steps and Indicators of the LASERS framework describe the practices and systems that support high quality literacy instruction.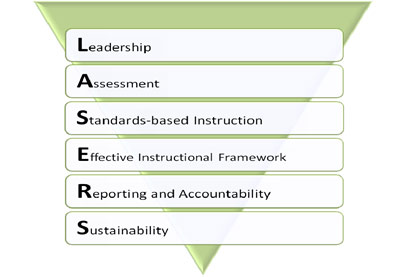 Sustainability is woven throughout all the components of the LASERS framework as the main focus of the Level D descriptors in each Action Step of the first five components. That level, and the Sustainability component itself, center on continuously evaluating effectiveness and implementing systems to maintain progress toward literacy goals. This lesson focuses on updating and evaluating your level of implementation of the TSLP to sustain and build upon your progress.
Part 1 of this lesson explains how to generate or update your implementation plan and your Implementation Map to set priorities for improving student literacy achievement.
Part 2 presents important considerations in planning for increased sustainability.
To get started, download the Implementation Guide for this component and refer to the Action Step for this lesson. Review the Implementation Indicators for each level of implementation and note the Sample Evidence listed at the bottom of the chart.