Source: Love hear, MLBPROD, Open clip art library
Although the genres of fiction, poetry, drama, and literary nonfiction are different, all writing within these genres has themes. Each theme is not merely the topic of the writing but is a truth the author wants the reader to understand. For example, love is a topic commonly explored by writers.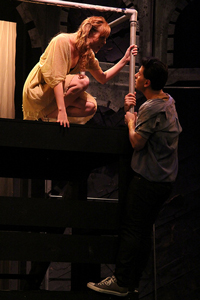 Source: romeo_juliet_0400_filtered, Daniel_dimarco, Flickr
To read a play like Shakespeare's Romeo and Juliet and to say its theme is "love" is to miss the point that Shakespeare is trying to make about love. Romeo's and Juliet's families despise each other and forbid the teens' love. This forbidden love ultimately leads to the deaths of the young lovers. Shakespeare wants us to understand that love is more than an emotion; it is a force that can cause violence and destruction.