Minimize
What is Texas Lesson Study?
Lesson Study is a job-embedded professional development opportunity in which teachers work collaboratively to develop, teach, and revise research-based lessons. The program aims to improve teacher effectiveness, share best practices, improve student outcomes, and provide a platform to demonstrate mastery within the teaching profession.
Lesson Study is a framework for collaborative, instructional research and lesson design that can be implemented by any campus and is proven to be effective in positively impacting teacher effectiveness and student outcomes (Gersten, Taylor, Keys, Rolfhus, & Newman, 2014). This teacher-driven process has also been shown to increase teacher self-efficacy and professional growth, including reported gains in the ability to craft good questions, use a variety of assessment strategies, provide alternate examples to alleviate student confusion, and implement alternative instructional strategies (Young, 2018).
Research. Reflect. Refine.
Minimize
What Are the Goals?
The TEA Strategic Plan 2019–2023 includes Lesson Study as a part of TEA's effort to improve teacher in-service training and support by introducing teacher-driven, reflective, and job-embedded professional development and structures (p. 4). The three major goals of Lesson Study are described below.
Improve teacher effectiveness
through self-reflective, outcome-oriented, research-based learning communities
Increase self-mastery and public perception of the teaching profession
by producing high-quality research-based documents (similar to the medical and legal professions)
Compile a massive repository of master lessons
that have been delivered, dissected, and refined by teachers
Minimize
Why is TXLS Important?
Fosters continuous professional learning: Improves teacher effectiveness through inquiry-based professional development in which teachers work collaboratively to develop, teach, and assess research-based lessons
Bridges the gap between research and practice: Provides a framework for teachers, the practitioners, to review educational research and consider how to embed these findings into a lesson
Shares effective instructional practices: Spreads effective instructional practices so that teachers across the state can access the teacher-designed, -tested, and -approved lessons
Shows
value
and
respect
for the teaching profession
Builds
collaborative
relationships & improves
school culture
Provides educators with
data
showing students'
learning processes
Enhances
pedagogical skills
,
content
knowledge, motivation, and capacity to
predict
and
observe
student thinking
Subscribe

to our Texas Lesson Study Newsletter

Subscribe to our email newsletter today to receive updates on the latest news and resources.

Sign up
Texas Lesson Study was such a powerful and emotionally moving experience for our teachers ... empowering our teachers to find and discuss instructional strategies that are research-based and best serve the needs of our student population.

Dr. Gwen Perkins

Area Superintendent for Academic Programs, Denton ISD

Lesson study has made me a better teacher. I feel better equipped teaching the TEKS to the rigor they need to be. I feel like I look at lesson planning differently now and I am super pumped for the upcoming year.

Jonathan Cambambia

4th Grade Teacher, Lake Air Montessori, Waco ISD

For me as a leader, it's been really inspiring to see how the team has come together ... and how we increased our collective efficacy through the process. Lesson Study was irreplaceable. It brought our PLC to the next level.

Amanda Sager

ELA/Reading Instructional Coach, WoodCreek Junior High, Katy ISD
Minimize
What is the Texas Lesson Study Process?
Examine student data and identify a research theme and student expectation from the TEKS

The campus or teachers create an overarching Research Theme.
Teachers examine the scope and sequence, student data, and the TEKS.
Teachers identify the student expectation(s) from the TEKS for the Lesson Proposal.

Review instructional materials, research best practices, and plan an effective lesson

Teachers review instructional materials and research.
Teachers create an assessment.
Teachers map out a unit timeline.
Teachers plan the Research Lesson.

Teach the lesson, and collect observation data on students' learning processes and engagement

Teachers decide among the team who will teach the research lesson.
One teacher instructs the lesson, while the others observe.
The other teachers collect data on student engagement and learning during the lesson.

Reflect on the lesson and data collected, and refine lesson accordingly (may reteach lesson)

Teachers and outside observers will reflect on the research lesson and discuss the data collected.
Teachers will decide if they would like to make revisions to the research lesson.
Teachers may repeat Phase 3 and 4.

Share the research-based lesson and findings, and network with other Lesson Study groups

Teachers will share the research lesson and findings with fellow teachers.
The Lesson Proposal and video of the lesson will be available on the Texas Gateway.
A network of Lesson Study groups and facilitators will be built across Texas.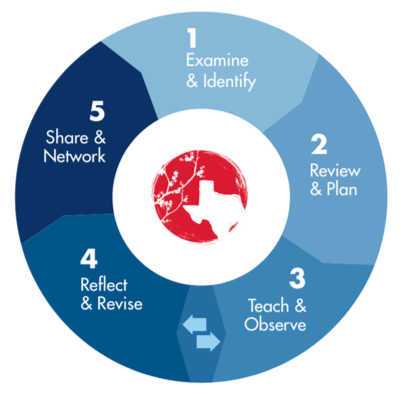 Minimize
Community Support (Enablers)
ESCs and TEA

train and support

district and campus leaders and teachers.
Teachers

collaborate

in teams of 2–5 (may vary by grade level and or/ content).
Teachers have

dedicated

time to meet during the school day or during a summer TXLS workshop.
Lessons and accompanying videos are

shared

on the

Texas Gateway

site.
Teachers are recognized for their

thoughtfulness, expertise, and dedication

to their students.
Minimize
Where is Lesson Study?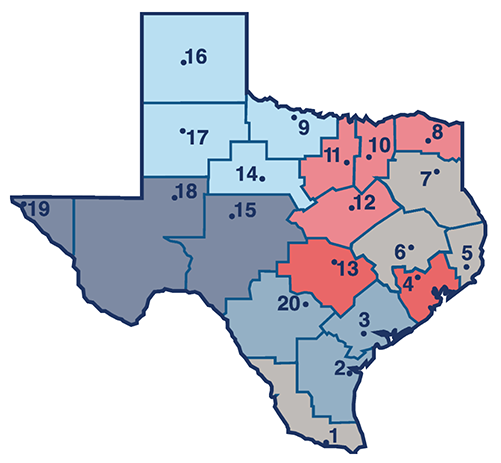 ESC 3 HUB: ESCs 2, 3, 20:

Tammi Tinnin · ttinnin@esc3.net

ESC 4 HUB: ESCs 4 and 13:

Mendy Wandling · mendy.wandling@esc4.net

ESC 6 HUB: ESCs 1, 5, 6, 7:

Traci Seils · tseils@esc6.net

ESC 10 HUB: ESCs 8, 10, 11, 12:

Michelle Stimpson · michelle.stimpson@region10.org

ESC 14 HUB: ESCs 9, 14, 16, 17:

Anne Post · apost@esc14.net

ESCs 15, 18, 19:

Texas Lesson Study · txlessonstudy@tea.texas.gov